TheOneSpy is one of the best PC monitoring apps in the world these days. It empowers users to spy on MAC and window laptop and desktop machines. The spy app for computer devices has user —friendly interface and packed with plenty of features that are best for tracking each and every single activity happens on the target computer machine. You can easily install it on the target device having physical access for once and then you can remotely track your target windows or MAC computer machine. TheOneSpy has made its way to the next level with its surprisingly powerful tracking app for computers.
Therefore, it is known as the best parental control and employee monitoring software in the world. Parents can use it to monitor kids and teens digital activities in order to protect them from predators online and to prevent access to inappropriate browsing activities. Moreover, it is worthy enough to spy on employees at the workplace to track their productivity, time-wasting prevention and to catch dishonest employees. The very first step that you need to take is to visit the web on your computer machine and then visit the official website of TheOneSpy.
Moreover, you need to subscribe for the window or MAC monitoring app with accordance with your target device OS. Then you will receive credentials in terms of passcode ID.
Once you have got the subscription and credentials, then you need to get physical access on your target device and get started with the installation process. Once you have ended up with the process of installation then move towards the next but crucial step. Now you need to activate it on the targeted device. While you are doing the process of activation you will receive a pop —up on the screen. It will give you directions that how you can make your computer monitoring app for windows sneaky.
Just follow the instruction and hide the icon of the PC tracking app. Now use the passcode and ID that you have got at the time of subscription and get access to the electronic web portal and visit the multiple features of the windows and MAC spying software. Then you will be able to track each and every single activity target user has performed on laptop or desktop windows or MAC computer.
SpyAgent invisibly records everything users do.
The end user can block all the inappropriate websites on the target window laptop or desktop computer machine. You just need to put the URLs of the websites into the filters. Then no one will be able to get access to the blocked websites. You can use this feature for digital parenting and as well as for employee monitoring. The end user can get friendly reports of the activities to happen on the target laptop window device in terms of logs.
It works like a surveillance camera which is fixed over the screen of the employees. It adds the computers for monitoring based on its IP address.
10 Best PC Monitoring Software to Use;
spy ware for iphone 6!
call tracker for samsung galaxy note 8.
Did you know?;
The software has given me full control on the productivity. ActiveTrak is a sleek looking monitoring tool which installs the Agent on every remote computer and presents you the live status of each computer. It provides productive and unproductive hours, and screenshots of activities, and has the ability to monitor in real time. With the help of the productivity screen, you can evaluate the employee performance based on daily, weekly, monthly, or annually basis.
It can provide a list of the most productive employee and the top websites list which the users have accessed.
Common Spy Software Usage Scenarios:
Majority of monitoring tools are solely useful for the computer systems only, but Flexispy is one such tool which supports monitoring of mobile devices like smartphones and tablets also. You can choose to monitor your Android and iPhone-based smartphones and record audio communication. But, it can be considered a major employee monitoring tool and you can use it monitor all your employees. But it is more suitable for the mobile phones and tablets rather than computers.
The most powerful and undetectable monitoring software for Windows PC
SoftActivity is a monitoring tool which records your computer screen, communication on Skype, Gmail, messenger etc. It takes constant screenshots and generates a video. It saves the video and you can view later. Alternately, you can watch the live recording of any computer.
How to spy someones computer without them knowing by android phone
It can record the screens, keystrokes, visited websites, and chat conversations. When you enlist the employee computer, it shows in a list where you can choose to send a notification whenever required. I can go back to any date and view what happened. Now there will be no data leakage from my organization.
5 best software to keep track of PC use [ List]
Pros —. Kickidler is another employee monitoring tool which records the live screens of the employee and presents to you. You can get the information about what your employees are doing, what websites they are visiting, or which application they are using. The software shows the exact period that your employee was productive and how many breaks did they take.
In a final sum up, all the tools mentioned in the article are quite efficient, beneficial, and easy to use. You can choose any tool as per your need and begin the recording of your computer screens. Your email address will not be published.
Did you know?.
gravity mobile spy login;
spy on someones android phone.
Your Feedback Is Appreciated. Home Products Offers Contact. Employee Desktop Live Viewer Computer Monitoring software is a light-weighted but a powerful monitoring tool which records all the screen and presents live streaming. Send instant messages to the computer s currently monitored.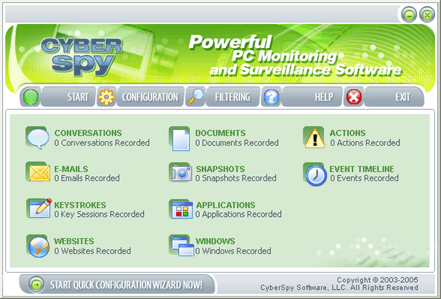 Useful settings to manage the recording. Cons — There is no option for cloud integration. The tool does not provide a recording report. ActiveTrak ActiveTrak is a sleek looking monitoring tool which installs the Agent on every remote computer and presents you the live status of each computer. Here are some reviews from its users who have given it to the software.
You can choose to block certain website or pop-ups.